Support Our It Starts at 16 Campaign to Raise $16,000!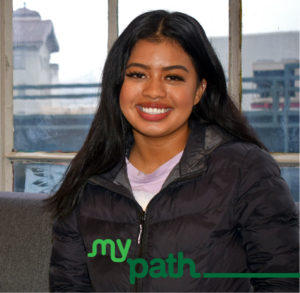 "While we get to learn about everything else in school, something as important as our finances is not taught. I believe financial capability gives youth the power to shape our present and future! More importantly, I have the power to change the lives of my parents and my future children."

-Mey
Letter from MyPath's Founder & CEO:
2019 has been another big year for MyPath! Our new senior team took the wheel while I enjoyed a 3-month sabbatical (thanks to the O2 program!). We moved to a beautiful new office. We engaged more than 20 new partners to adopt our youth financial capability models and added 3 new cities to our national footprint. We undertook exciting new research on the longer-term impacts of financial capability (stay tuned for a brief in early 2020). None of this could have happened without you, our community of allies and champions. We need your support today for our year-end campaign to raise $16,000 in honor of the many youth who start MyPath Savings at age 16, like Mey. Your support of MyPath literally changes lives, helps young people get on a path to building wealth, and builds ecosystems that support this work in communities around the country.
Mey joined MyPath Advocates & Innovators program in San Francisco when she was 16, and has seen first hand how people in her community lose their earned income to predatory check cashers and payday lenders. Now as a young adult, a financial decision she is most proud of is to continue her financial capability journey from saving to building credit. "I tried moving out and renting my own place earlier this year, but everywhere I applied to asked for my credit score. I never learned about credit from school or my parents. MyPath has helped me feel more confident about what credit is and how to build my own credit. Now I've enrolled in a Fresh Start Loan and will have a Financial Mentor to guide me through the process for the next 12 months."
Join us to remove the barriers holding back so many amazing young people across this country — this country needs their brilliance and power more than ever! Make your gift today.

Thank you for your support!